Online Creative Writing Workshop on Graphic Narratives with Kate Leth
Wednesday, October 4 2023, 6–7pm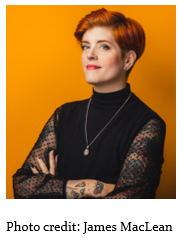 Are you interested in comics, graphic novels, illustration? Would you like to get a glimpse of what it's like to be behind the scenes and creating all those unforgettable characters and storylines?
If yes, then, you must hear Kate Leth, a Canadian author and illustrator working in comics, animation, and design. A grown-up goth and pop culture devotee, Kate specializes in work for kids and teens. Their comics work includes Patsy Walker, A.K.A. Hellcat!; Girl Over Paris; Spell on Wheels; and Adventure Time, among others.
All Creative Writing Workshops
For this online program, we'll be using Microsoft Teams. You'll need a computer with a microphone (or headphones) and webcam, or your smartphone, or an iPad/tablet.
An email address is required for registration.
Address
This is an online program.
Contact
Notes
Registration Details
Registration is required; begins on August 3rd at 1pm