Featured Image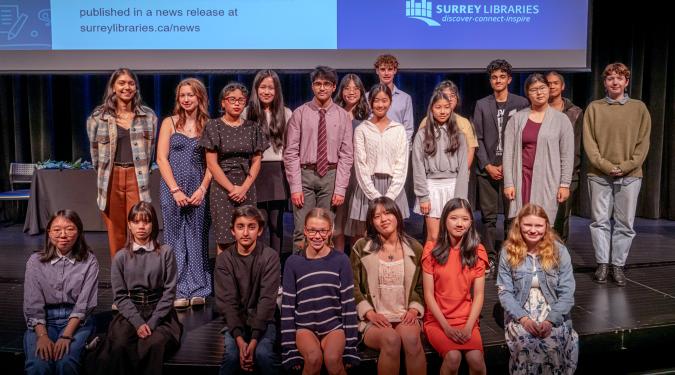 Surrey Libraries congratulates the winners of the 2023 Surrey Libraries Youth Writing Contest. The winners were acknowledged at an Awards Gala on Wednesday, October 11.
The Youth Writing Contest is an annual writing competition for youth aged 12-18. Since launching the contest in 1987, Surrey Libraries has received close to 8,000 entries. It is free to enter, and young writers submit entries to one of four categories. Categories include short stories, poems, and comics. There is also a random category for other types of writing such as essays, screenplays, or lyrics.
This popular program is organized by the dynamic staff at Surrey Libraries. It is made possible through the generous support of our sponsors. Champion sponsors include:
Khalsa Credit Union
Kwantlen Polytechnic University
Surrey International Writers' Conference
An anthology of the winners' work will be available to borrow or to purchase for $8.00 in early November.
Winners  
Junior Short Story                                           
First Prize: Henry Wheeler by Rishabh Gandhi
Second Prize: The Throne by Feifan Wang
Third Prize: Altan's Revenge by Haider Athar Ansari
Honourable Mention: A Day in a Cat's Life by Jia Lu Hai
Honourable Mention: To Be Heard by Lucy Prior                                              
Senior Short Story                                           
First Prize: Mother Tongue by Sharon Yang
Second Prize: Childish Indulgence by Kristy Tran
Third Prize: It's Eating Me Alive by Alyana Amadeo
Honourable Mention: Conversations We Forget by Kirat Saran                                              
Junior Poetry                                    
First Prize: To Conquer the Darkness by Lucy Prior
Second Prize: An Ode to Childhood by Isabelle Fan
Third Prize: My Saviour by Landon O'Brien
Honourable Mention: Secrets by Eden Taillefer
Honourable Mention: Broken and Crumpled Up Flower by Alice Su                                               
Senior Poetry                                    
First Prize: Carnage by Carolyn Hu
Second Prize: brown sugar/the grandmothers by James Enns
Third Prize: Hidden by Ruby Parker
Honourable Mention: The Dictionary of Deception by Clary Chow
Honourable Mention: Porcelain Pity by Basma Mangat                                              
Comics                                 
First Prize: Once Upon A Time... by Hui Shwen Neo
Second Prize: The Death of a Hero by Sophia Ng
Third Prize: Nobody Would Remember My Name by Shenelle Villacorta
Honourable Mention: Love, Aro by Esther  Park
Honourable Mention: Introvert by Annis Seo                                               
Random                                              
First Prize: On Righting by Teagan Chow
Second Prize: Rust (Driving Away) by Reagan Jaymes
Third Prize: rings, et al by May Chee
Honourable Mention: The Grinding Gear by Rehn Clyde Tan
Honourable Mention: Faith by Aadil Sood
Finalists
Alicia Kardos
Amanda Kwan
Amethyst Lee
Annika Montiel Jorgensen
Annika Gill
Ayla Hamilton-James
Breanna Yang
Camden Batenburg
Divya Sondhi
Donovan Lin
Elayna  Robert-Gebert
Ellie Winship
Emmanuella Umar
Gurleen Virk
Gurmahek Athwal
Gursukhmani Basra
Gurvir  Muker
Hassan Ahmad
Hayden O'Brien
Japneet Kahlon
Jessica Bhandal
Karina Song
Landon O'Brien
Madison Lee
Manha Khan
Maya Sidhu
Meher Sohi
Mei Ming
Michelle Masood
Moneet Gill
Naomi Wilton-Jenkinson
Naseha Samreen
Natalie Kyon
Navkiran Sandhu
Nita Su
Olivia Kim
Pearl Jakhar
Rachael Le
Rianna Hayre
Rodlee James De Villa
Selah Phommaviset
Shanaya Loi
Shruthi Banka
Sienna Chow
Sofia Sutton
Sonya Ushakova
Sophie Liu
Sowon Kim
Tanushka Sharma
Vennex Hasler
Woorim Choi
Zaden Hasler
Zara Thandhi