Featured Image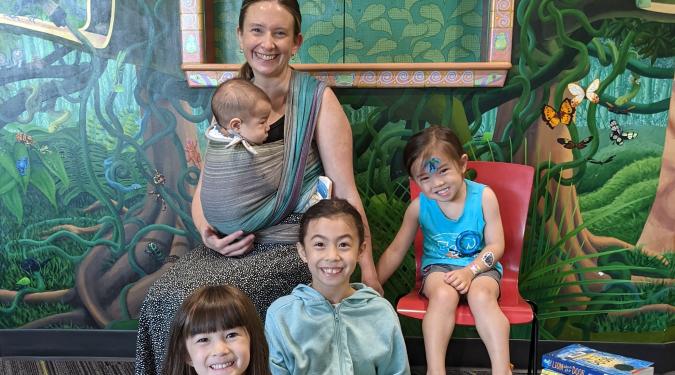 The days are shorter, the leaves will soon start to fall and the rumble of excitement around back to school has started. Parents and students who are learning from home and may not have access to all the resources of a school can get organized with the help of Surrey Libraries. The Library has many programs, resources, and services available for free to cardholders.  
For the Lung family who started homeschooling during the pandemic, Surrey Libraries has been a great resource. "It's really easy to lesson plan from home – navigating the library catalogue and choosing appropriate books for the kids," said Natasha Lung. "Olivia, who's 9, especially appreciates how easy it is to find series information on books she likes." 
Surrey Libraries has an extensive, diverse, and inclusive collection of books on all topics that is constantly updated. These come in various formats including paper, audio, eBook, and even talking books – books that have built in sound so that children can both listen and read at the same time. 
"We love working with our home learning families who are eager to find unique books and programs that support literacy, learning and their family values," said Chloe Humphreys, Manager, Youth Services with Surrey Libraries. "Homeschool families often attend our Meet the Author events, borrow our Storytime kits, volunteer as teen Reading Buddies, engage in STEM online learning, and participate in our Summer Reading Club and Teen Summer Adventure."  
Choosing items to borrow is simple and can be done from home. The catalogue can be searched using lists, filters, and reviews to find the perfect match. Items can then be placed on hold for pick up later at the nearest branch. The book lists are also a big hit in the Lung family as they help with finding book recommendations on many topics. Also, if Surrey Libraries doesn't have a particular book or subject, it can be requested as a new purchase or borrowed from another library system.  
Since not all homeschool learning takes place at home, families can check out the many programs at Surrey Libraries which provide opportunities for students to learn new skills and connect with other kids.  
"The library programs have been really helpful with coming out of the pandemic and since we haven't established a strong homeschool network yet." notes Lung. 
Students can also take advantage of the Library's public computers, groupwork spaces and quiet study nooks. To support STEM (Science, Technology, Engineering, Math) learning, students can borrow items like Dash Robots, Bee Bots, and Zoom Audio Recorders from Surrey Libraries' Tech to Go collection or join programs like UBC Geering Up, SFU Let's Talk Science, and Code Mobile coding workshops. Information on library programs and spaces can be found at surreylibraries.ca/events. 
Library cardholders also have access to extensive online resources to support homework help, homeschool learning, and to motivate students. LOTE Online for Kids provides a collection of books read in Languages Other Than English. The books also come with English translations to support learning. Solaro online follows the BC Provincial curriculum and includes lessons and practice tests for students in grades 3 to 12. Homework help for research and projects can be found in Science Online and Explora Primary.  
Each Surrey Libraries branch has dedicated Youth Services staff available to help students with their needs and can print BC curriculum packages by grade upon request. Homeschool family networks (a group of homeschool families) are welcome to request a tour of the library. A tour can include registering for library cards for the whole family, a storytime, highlights of key library resources, both online and in print, and a tour of the library space, with time to checkout some library items.